I started running just before Thanksgiving, back then I could barely run 30 seconds, my breathing was out of control, it was a mess. But I have determination, I read up on the couch to 5k program and I pushed through. I re-did a few weeks due to my school exam schedules, a medical procedure I had, xmas, etc. But I have consistently been on the treadmill at least 3 days a week since then (mostly it has been 4 days a week). I have purchased hand weights and an exercise ball, I have been doing push ups, sit ups, and other muscle building activities. Before this, it had been YEARS since I had done any type of deliberate exercise. I mean who has time right? Ha what a lame excuse, but we have all used it at one time or another. I mean I had 3 kids, a full-time job, then became a full-time student, how did I possibly have time? But let's be realistic, we all have time. We need to make time, exercise needs to become a priority. Once you get in the habit of it, it becomes second nature, you begin to crave that work-out, that time away from your kids, from your job, from your life. You begin to realize that running feels good!
I have been in my basement on my treadmill, but lately it is becoming less enjoyable. My children decide that they need me as soon as I get on it, it never fails. I am feeling rushed, and stressed and even a bit angry. THIS IS MY TIME!
I have decided to start to run at the Superior Dome, which is the largest wooden dome in the world. The Dome stands 14 stories high and has 5.1 acres under it's roof. The Dome's features include a retractable artificial turf carpet, the largest of its kind in the world. When extended, the turf has the ability to accommodate football, soccer, and field hockey. Underneath the carpet is a synthetic playing surface that features three basketball/volleyball courts, two tennis courts and a 200 meter track. Twelve computerized winches extend the carpet over a cushion of air. It is on NMU's campus (where I attend) so it will be convenient for me.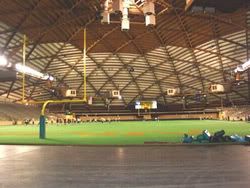 I can go there after class, and I will be able to get to run in peace without the demands of my children. HEAVEN. This also means that I am going public. I will be running somewhere other than in the comfort of my own basement. I think this will provide me with more motivation, and a bit more of a push to go farther and longer.
Of course I still will use the treadmill, but I think this will provide a nice change so that I don't grow bored or tired of staring at my basement walls. The winters are long here and it will be a long time before I venture outside!